Mudpie's Musings - A Mice Blog
Ellen's latest rescue

This Cottontail Rabbit was attacked by a dog and when it ran across the road to escape, it was hit by a car. It then ran inside a local business for refuge. Fortunately, the people who run the shop were kind enough to capture the rabbit and bring it to me. It had some bad injuries and was in shock, but it's doing very well now. It is not yet ready for release because it needs to regrow the hair in the wounded areas before it can go back out into the wild. Ellen

Ellen's Latest Rescue

This young pigeon arrived after it was found sitting on the ground in someone's yard. It wasn't feeling well, and in addition, it had been attacked by a cat. It has been slowly recovering for the last three weeks and is finally showing signs of improvement. I believe the bird had a virus called Paramyxovirus, which caused it to feel very unsteady on it's feet and in addition it had no appetite so I had to tube-feed it throughout each day until it felt well enough to begin eating on it's own again. Pigeons, just like humans, are considered a "non-native species" because they didn't originate in the U.S. They are naturally mellow, sweet birds and behave in a very domesticated way. I hope you are able to see it's beautiful chocolate brown coloring in this photo. Some people might ask, "why save a pigeon?" My answer to that is; pigeons suffer just as much as any other animal or human and therefore deserve care and consideration. Ellen
Ellen (12-02-09)
Click here to read about more of Ellen's animal rescues:
House-Mouse Designs on Decoupage
Joanna Sheen Limited is celebrating 30 years in the international craft business this year and what better way to add to the celebrations than launching a beautiful range of House-Mouse Designs® Decoupage Sheets! each package contains 20 Sheets (10 designs x 2). This product will be released in the next couple of weeks in the US and will make their UK debut this Sunday, Novermber 29th, 2009 on TV!
Save $5.00
House-Mouse Designs® - USPS Approved Postage Stamps, over 200 designs available. Save $5.00 a sheet of 20, click image below for more information: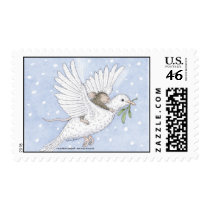 $5 discount applies to any number of sheets of twenty Zazzle Custom Stamps with a denomination of 44 cents. Enter promo code ZAZZLESTAMPS at checkout to receive discount. Offer is valid from Nov. 23, 2009 through Nov. 26, 2009 at 11:59pm PT. Your order must be placed during that time to qualify for this special offer. This promotional offer may not be combined with any offers. Zazzle Site only.
House-Mouse Mugs sold on our On-line Partners Web Site
We have partnered with Zazzle.com to provide you with over 250 of our whimsical mouse designs on 7 different varieties of mugs. You will be purchasing the mugs directly from our partner, not from us, but they are a trusted House-Mouse on-line Partner.